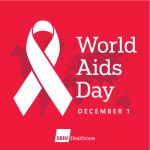 December 1, 2020, is known as World AIDS Day and launches at the beginning of Aboriginal AIDS Awareness Week (December 1 to 5).

Each year, on December 1, the world commemorates World AIDS Day. People around the world unite to show support for people living with HIV, and to remember all those who have died from AIDS-related illness. We celebrate World AIDS Day by wearing a red ribbon to spread awareness. The red ribbon symbolizes solidarity for people living with HIV/AIDS.  
The world has made significant progress since the late 1990s, but HIV remains a major global public health issue. Like many other major health issues, it faces additional challenges during the COVID-19 pandemic.
HIV prevention, testing, treatment, and care services are all being disrupted particularly in countries with fragile health systems. The breakdown in essential HIV services due to COVID-19 is threatening lives. Any slowing down in provision of these services will leave many vulnerable, populations such as women, people with disabilities will be greatly impacted. Racialized and indigenous people also have a greater risk of HIV infection and AIDS-related deaths. Nevertheless, all over the world, health workers and community representatives are doing their utmost to keep services going, adopting innovative ways to overcome disruptions in services caused by COVID-19.
"On this day, SEIU Healthcare continues their dedication to educate and build knowledge of the barriers that people are facing living with AIDS and HIV. Every life matters regardless of who you are or what you are. It can impact anyone at any time, and we need treatment to be available at all times to help crush this disease. Education is knowledge and knowledge is power. No life needs to be taken so early. Love is love, and love always wins." – Larry Kobos, SEIU Healthcare Executive Board LGBTQ2+ Seat