A Message from Larry Kobos, SEIU Healthcare Executive Board, LGBTQ2+ Seat: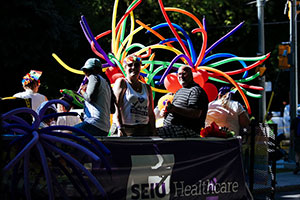 November 20, 2020, is Transgender Day of Remembrance. It is a day  we pay tribute to the trans, two-spirited, and non-binary people whose lives have been taken away too early from transphobic violence. 
This day, and all days, we honour those individuals who continue to face violence and discrimination in their day-to-day lives as they continue to work for a more inclusive world.
Trans people, two-spirited people, and non-binary people are our co-workers, friends, family, and neighbours. Today is a moment to mourn and grieve together. We must also commit to educate each other and end all violence against trans people.
On this important day, SEIU Healthcare stands together in solidarity with trans people and their allies to remember the hundreds who lose their lives each year due to their gender identity and self-expression of who they are. We are committed to ensuring that all workplaces are inclusive and supportive of all trans and non-binary members. Everyone has the right to work in a place free of violence and harassment. 
When we take transphobia head-on, we make our workplaces safer for everyone. In my role on the SEIU Healthcare executive board, I am committed to addressing, educating, and eliminating violence and harassment in the workplace once and for all. We must inform workers about the unique needs and expressions of trans, non-binary, and two-spirited workers. We must send a strong message that transphobia is something that is not tolerated or accepted.