The COVID-19 pandemic became real for Sheena, an RPN in Thunder Bay, when her coworker was forced into isolation for 14 days. The hospital refused to pay for the cost of the hotel so Sheena decided she had to do something. She worked with her union representative to get the hotel taken care of and organized meals for others isolating.
Sheena did everything she could to help her fellow workers, but it's the government that needs to protect frontline healthcare workers during COVID-19 so they can do their jobs to keep our communities safe. Read Sheena's story featured in Volume One of Scrubs and Scopes.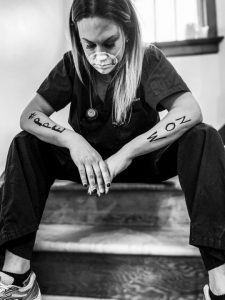 Sheena Woods is an RPN at the Thunder Bay Health and Science Centre. During the 2019 SEIU Healthcare's Nursing Division Convention, she was elected as the Region 1 seat. She has been a part of our nursing campaigns, lobbied at Queen's Park, and has assisted with our education events and academies. When COVID-19 surfaced, she explained that she was a little naïve, and never thought it was going to hit Thunder Bay because they were so far away. But when it was at her doorstep, it did not take long to feel the effects of the virus.
"I assist new mothers and vulnerable newborns every day. When I have helped mothers who are suspected to have COVID-19. Every single time I enter the room, I need to replace my PPE. For one mother, that may be 13 times! So, think about how much PPE that is, but I need to protect myself. It is not my hospital I am worried about. I fear for our long-term care homes and retirement homes who desperately need proper PPE. This is a legit nightmare, I don't think any healthcare worker thought they would ever have to go through something like this," shares Sheena.
The staff at Thunder Bay Health Science Centre was notified that there was only enough personal protective equipment (PPE) for three weeks. They have been advising staff to preserve their supplies and to wash face shields so they can be reused. The moment Sheena felt like it was real, was when one of her fellow RPN was placed in isolation due to exposure from COVID-19. The hospital shared that they would not be covering the hotel stay, but the hotel did give her a discounted rate for the 14-day quarantine period.
"When I heard about this, I reached out to our union representative Bill Joblin. I told them that there were two nurses at a hotel isolating, but the hospital was not covering the cost and the hotel discount only applied if they stayed for the full 14 days. If a nurse tested negative for COVID-19 they would be released from isolation and could go back to work, but they would remove the discounted rate and charge them full prices for each day they stayed. After I spoke to Bill, the accommodations were taken care of. I also posted on my Facebook account to see if anyone could help those in the hotel with anything, even just meals because the hotel did not have a kitchen or cooking area."
Decisions are being made without the advice or opinion of frontline workers. How can the government or employers ensure they are placing the right policies and procedures if they do not have any information for those it affects the most? When Sheena was made aware of the issues, she quickly acted on it and ensured the results were in the best interest of the nurse. Not every healthcare worker will be able to do this during this crisis, and they should not have to. It is the responsibility of the government to ensure they are protecting all essential workers during COVID-19. It is the responsibility of the employers to provide the appropriate training, resources, and to mainstream the correct procedures.
"It Is Ridiculous That We Have To Fight For Hotel Accommodations Or PPE. The Government Would Never Send A Police Officer Into A Fight Without A Gun. We All Have Families To Take Care Of And A Community To Keep Safe. Nurses Shouldn't Have To Be Fighting For This."
This story was featured in issue #1 of "Scrubs and Scores", the SEIU Healthcare Nusing Division magazine. To read more stories like this, Click Here