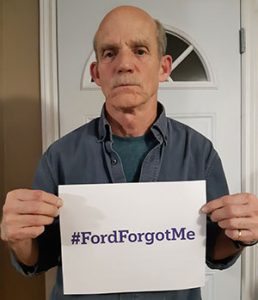 Mike Wheeler has been in the healthcare industry for the past 16 years.
Before he settled into his position in the maintenance department at Lennox and Addington Hospital, he worked in long-term care facilities in the dietary and housekeeping department. As much as he enjoys his job now, he does miss interacting with the residents. As a maintenance worker, his primary responsibility is construction in the main hospital and surrounding buildings. Currently, 15 of his colleagues and himself are working on a 21-bed facility for seniors, so each of them can have their own condo. In the main hospital, there are four of his co-workers who handle daily tasks.
When pandemic pay was release, and Mike thought his department would obtain the temporary premium, as the news indicated hospitals and long-term care homes would receive it. He was pulled out of his construction site and send to the main hospital during the height of the pandemic. Since Mike had a background in housekeeping, he helped with cleaning rooms in the COVID-19 clinic.
"Turns out maintenance workers did not make the pandemic pay list. Since I only worked six weeks in the COVID-19 clinic, I only received one day of the premium payment because my last day was when the premium began. In the clinic, I was doing everything from changing the sheets, mopping the floors, scrubbing the walls, and disinfecting any surfaces after each patient. During an eight-hour shift, there would be about 13 to 14 patients."
Mike received a letter from the CEO that notified him that he was not one of the classifications on the pandemic pay list. Since he was no longer cleaning rooms in the COVID-19 clinic, he was okay with being excluded, but a few months after four co-workers working in the hospital with the same classification received the pay. Many of Mike's colleagues were upset because the building off-site they were working on was used for testing.
"There was a division within our department. We wanted to share our anger and frustration with our local MPPs. They told us they would look into it, but they never got back in touch, and no changes were made. During the next election, we will be discussing these issues. When we needed them, they ignored us."
This past January, Mike was appointed to the chief steward, but he has been a steward for over 13 years and a strong union activist. Advocating for his fellow sister and brothers is a passion he has always had. He treats collective agreements like the holy readings and follows it to a T. Whenever there is a deviation Mike always stands up, pandemic pay is no different.
"It isn't about the temporary pay premium; it is about the issues it created for healthcare workers. It has affected relationships, and every time it comes up there is bad blood. But when you enter this profession, you know what you are getting into, and you have to enter this hospital with no fear because you are a part of a place that helps so many people. Despite what is thrown at you, you must work through it. In the future, I hope the Ford government does their research before creating policies and making decisions that affect the health system."