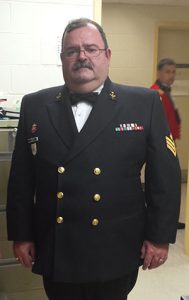 Karl Penney has dedicated 35 years to providing happiness and nourishment through his passion for cooking. For the first 30 years, he served in the Canadian Royal Navy as a Drill Sargent and cook. For the past five years, he has been preparing meals for the residents at Chartwell Empress Kanata.
"It means everything to me when the residents compliment my food. Just like in the navy, at my workplace, the food controls the morale. They say that soldiers march on their stomachs and the navy sails on their stomachs. When residents are well fed and enjoy their meals, it makes a world of a difference."
Karl loves everything about his job, and when COVID-19 hit Ontario, he didn't think it would impact his workplace or his profession. Unfortunately, reality set in when his daughter Tiffany tested positive for COVID-19. Tiffany is a personal support worker (PSW) at the same home as Karl.
"She had to go into isolation, and we created zones in our home. She had mild symptoms, but the virus hung on for a while. She was assisting a resident who had COVID-19 and everyone helping contracted the virus. Each of us at home played a role in maintaining a safe environment for all of us. Thanks to our group effort, no one else in our family caught it."
Once COVID-19 was in the building, it completely changed how meals were distributed. Preparation had to start earlier and be delivered to the rooms since the home was on lockdown. A few residents were unable to recover from the virus and sadly passed away. The residents are reason Karl loves his job; some of his residents were fellow veterans like himself.
When pandemic pay was announced, both Karl and his daughter Tiffany were included. What Karl did not understand is why it took so long. His son currently works for Loblaw's Superstore and received the premium long before healthcare workers did.
"The CEO of Loblaws wanted to do everything he could for his frontline workers. He did not hesitate to give them a raise during the pandemic, but Chartwell needed a kick in the butt to give us pandemic pay. They initially refused to give us anything. These big corporations are all about the almighty dollar, Chartwell even wanted to keep a $1.00 administration fee from our $4.00 pandemic pay premium."
Chartwell Retirement Residence is one of the largest long-term care corporations in Canada, who have proven time and time again that they care more about profits than their employees or residents. If Chartwell does not want to provide proper wages or benefits, who is going to want to enter the long-term care sector?
"My daughter Tiffany, and all personal support workers should be making much more than they do. I don't understand why the government has decided to stop pandemic pay when the positive cases of COVID-19 are the highest they have ever been. It's bad enough that the workers in this industry don't make enough money for the work they do, but now we have the government saying they acknowledge the work we do and how important it is to the community, but you still aren't getting pandemic pay. How can we not feel underappreciate? The residents are the only thing keeping us here."