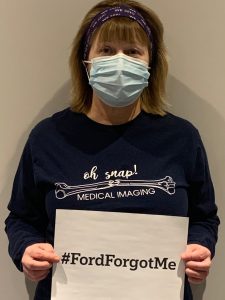 Jamie Pitre has been a medical radiation technologist for 16 years. She currently is employed at a rural hospital in Northern Ontario. Due to COVID 19, the hospital has been busier than normal trying to catch up with appointments pushed back because of the provincial shutdown of health services caused by the pandemic.
Medical radiation technologists are frontline workers and play an essential role in providing medical imaging to aid in the diagnosis of COVID 19. From the beginning of this pandemic, they have performed portable chest X-rays and CT scans on suspected and probable COVID-19 patients. Since the virus is a respiratory infection, the imaging of the patient's lungs is imperative. It was a shock to the union and Jamie's colleagues that they were excluded from the pandemic pay premium.
"We work in close proximity to these patients, less than two feet. We are literally face-to-face with patients when we are doing our portable chest X-rays and when positioning for CT scans. The first tests ordered on a suspected or probable patient is a portable chest X-ray and lab work. This news was upsetting to my profession and all of the other allied health professionals who were excluded from the pandemic pay list. It was demoralizing, brought low moral, and caused an unnecessary divide in the healthcare teams."
The healthcare system was not prepared for this pandemic. PPE was in short supply and infection control policies were being changed daily all across Ontario. COVID-19 was being downplayed, which was very frustrating to healthcare workers. Thankfully changes have been made to infection control policies to support airborne precautions and N95 masks should now be available to all healthcare workers.
Jamie believes that those making less money in the health system deserve a pay increase, like personal support workers (PSW's). They do an enormous amount of work with little recognition. They deserve a better wage and more appreciation for the work they do.
"The Ontario government blew the pandemic pay, I believe they had good intentions, and if they kept the pandemic pay strictly for the PSWs it would have alleviated the unnecessary divide that was created by the pandemic pay list. The government contradicted themselves when they said it was meant for the low paying healthcare jobs, but then they included the highest paying healthcare jobs and left out the middle."
Jamie was happy for the healthcare professionals who did make the list but quite disappointed that medical radiation technologists and other professions were overlooked.