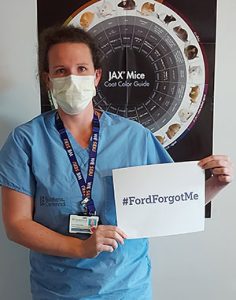 Erin Smith-Silk is an animal attendant at Sunnybrook Health Sciences Centre in the Comparative Research department. Animal attendants play a vital role in the health system, and without them, advancements in medicine would not be possible. Erin works in a fast-paced environment where she provides quality care, feeds, and treats animals. She monitors their health and advocates for the animals when needed. Her job is to ensure the animals have a voice and are always protected while they are in her care.
Erin is a part of a small team, and from time to time, their roles overlap.  When the Ford government announced the first list for the pandemic pay premium, Erin did not expect attendants to be on the list. She was receptive to their decision because she was not working directly with COVID-19 patients, but working within the research facility at a hospital, Erin knows that even if she isn't in direct contact, there is always a chance she could contract the virus. She later discovered that cage wash cleaners in her department were included in the pandemic pay classifications.
"It didn't make any sense. How can one classification in the same department receive pandemic pay, and the other classification does not? We work side by side, in the same department, with the same serving unit.  Since we are a small unit, pandemic pay did feel like the elephant in the room. Can't the government see that by only selecting certain classifications, it creates a division in departments and is demoralizing for those who were not included?"
Erin started a pandemic pay petition and sent it off to Queen's Park, consulted with the union, and the Human Resource department at Sunnybrook. She is not only fighting for herself, but she is fighting for all attendants and the forgotten frontline workers. After pandemic pay was over, and the temporary wage increase was announced for personal support workers (PSWs) Erin was once again hit with confusion.
"I completely understand!  My grandmother lives in a nursing home, and even without a pandemic, PSWs do so much for their residents. I respect them, and 100% agree they deserve a wage increase. Mr Ford, pandemic pay is a welcomed gesture, but if you give it to one group, you should consider giving it to everyone. I understand you are trying to allocate your funds, but by doing so, you have created division throughout the hospital sector. You have healthcare workers fighting against each other when we should all be working together."