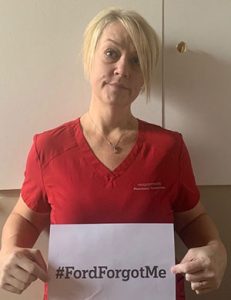 Meet Cara Thompson, a dedicated pharmacy technician who has worked all but one of her 21 years at Niagara Health. Cara's start in the healthcare industry began when she decided to go back to school. Within the first week of classes, she fell in love with the program.
"I wish I jumped into healthcare much earlier in my life, but now after 21 years, I still get to progress my career further. I am once again going back to school to become a registered practical nurse."
Pharmacy technicians do everything from mixing, delivering, and packaging medication, to preparing chemotherapy and IV's, helping the emergency department with medication history, creating medication profiles, controlling narcotics and drugs, and help patients and different departments in the hospital with daily tasks.
"Pharmacy in general is always overlooked. People don't realize the knowledge base we have or all the responsibilities we perform. We don't just stand there and count pills. We are in contact with patients every day! As a pharmacy technician, I always try to be the best part of someone's bad day. Even if it is the worst day of their lives, I try to bring some light into their world, make a joke, make them smile, lend them an ear."
Many healthcare professionals were frightened when the pandemic first began, but Cara loved working in the emergency department, it was her favourite part of her job. She happily worked non-stop for three months in the ER, but when summer approached, the hospital was short-staffed. So they placed a student in the ER, while Cara returned to her department.
"Normally students are supervised before they can work alone, but she was thrown right onto the floor, and me, someone who has been there for more than 20+ years was booted out of the ER. I didn't think this was right, but certain rules were being broken because of COVID-19."
Doing the right thing was not so black and white anymore. Coronavirus created a lot of grey areas, and policies and rules did not always make sense. Cara wanted to continue helping patients at the hospital while ensuring she was doing everything she could to keep herself and her family healthy and protected.
The pharmacy department was not included in any of the temporary pandemic pay lists. Cara felt completely forgotten, the government didn't have their back, and neither did the Ontario College of Pharmacists. Cara was outraged when she discovered that community pharmacists are now asked to conduct COVID-19 testing.
"When you are working in the ER, you are exposed to everything. We all work together, side by side, we are all at risk. I was madder than hell when I saw the list. I couldn't understand the rationalization. Now after excluding us, they have the nerve to ask us to help with testing. Retail pharmacists were following new legislation to only provide one month of medication. I bet the government doesn't know what kind of abuse they had to deal with when patients were upset by these new rules. But that's what happens, leadership is making all the rules and dealing with none of the backlash!"
As much as the premium wages benefit some healthcare workers during this time, it also created hostility in the hospital. Workers are comparing compensation, thinking about who is worth what, evaluating each other's daily tasks and responsibilities.
"I would like to see the Ford government shadow healthcare workers. They need to see all the people who are putting their lives at risk. Mr Ford, you made us feel like we are worth nothing, but Ontario can not run without us! He has created a lot of hard feelings. Healthcare workers are not helping one another because they are holding grudges against each other because of their pay. He dropped the ball on this one and spoke too soon. The government doesn't see past the emergency doors; they don't understand how many people it takes to care for just one person. It isn't about the money; it is about the principle. You can't determine people's worth."
To Cara, work isn't just work. She loves her job no matter how stressful it is, and no matter what the government implements, they can not take her compassion away. Healthcare is Cara's future, and through tough times she will always continue to push through.