Frontline healthcare workers go above and beyond their job descriptions every day – and then there is Cathy, RPN and impromptu wedding planner!
Cathy is passionate about palliative care and when the daughter of a patient decided to have an early wedding so her mother could be there when she walked down the aisle, Cathy sprung into action. Her Everyday Nurse Hero story was featured in Volume Two of our Nursing Division's magazine Scrubs and Scopes released in December 2020.
"When I was a little girl, whenever I walked into a hospital or doctor's office, I felt like I came alive. I was so intrigued by everything happening around me."
Cathy Case was born to be a nurse. For as long as she can remember, she always wanted to be a nurse. 30 years ago, she was enrolled in the RN program, but life happened, and she put her nursing career on hold to raise her family. The nursing program became available on a part-time basis, and it worked out perfectly for Cathy's family. The burning desire to become a nurse never died, so when it became convenient for her, she leaped at the opportunity.
Cathy is an RPN in the medical inpatient unit at Niagara Health. Cathy has loved every aspect of her job and thinks about nursing every single second of the day. Palliative care is Cathy's passion; deep in her bones, she believes there is more to life even after you pass on.
"It is hard to explain, but I believe nurses have a sixth sense," Cathy says.
On many occasions, Cathy has exemplified that she is more than willing to go above and beyond to advocate for her nursing profession, colleagues, and patients. Soon after her nursing career began, Cathy became a steward at her workplace.
"I feel like people should work in harmony with each other. I am a Libra, so I am a peacemaker, I am the scale of justice, I have always been like that. I weigh the pros and cons. I think about what is right and wrong. I have no problem calling management out. We all have to learn how to work together and respect one another. For any nurse who is on the fence of becoming a steward in your workplace, you never know until you try. If you don't like it, finish what you started then let them know it's not your cup of tea," Cathy explains.
Back in 2018, Cathy organized a wedding for the daughter of one of her patients in palliative care. Kim Sherwood, Cathy's patient, was diagnosed with an inoperable tumour, and the family knew they did not have much time with their mom. Kim's daughter, Chelsea, was getting married the following summer, but once the reality of losing her mother settled in, they knew they had to get married while Kim was strong enough to attend. Within 48 hours, Cathy recruited the help of her co-worker Jackie Junkin, and the hospital to create the perfect wedding ceremony for Chelsea and her fiancé Jordan. "I remember going on my phone and scrolling through Facebook, in the Marketplace, I found an ad where a couple was looking for an officiant and photographer for their small wedding at the Fort Erie Hospital because her mother was dying. I was a little curious because I didn't know my hospital was having a wedding. I started "creeping", as my daughter would say, and realized her mother was my patient. In the middle of the night, I blew up my manager's phone because I wanted to do this wedding! After getting her blessing, I messaged Chelsea on
Facebook, and the clock began."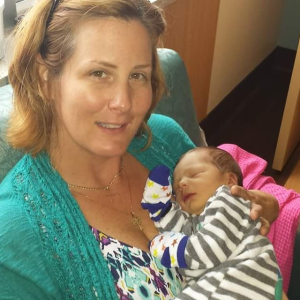 Cathy's daughter was also planning her own wedding, so it didn't take much to get her wedding planning gears going. The following day, along with her partner in crime Jackie, Cathy was up and at it!
They started to collect items from families, friends, and the community. Chelsea and Jordan had a small ceremony with 30 of their closest loved ones, as well as the media. The hospital gave the couple the largest conference room, where Cathy and Jackie transformed the space; they even got their husbands to help setup. After their intimate ceremony, they enjoyed finger foods and cake. Kim was able to wear a beautiful dress from the dynamic duo, and she got her makeup done.
"It was truly a beautiful day. Chelsea's mother passed the week after, but she was thankful and happy that she got to witness her daughter getting married."
Niagara Health awarded Cathy and Jackie with the Nursing Excellence Award for their innovation. The story of Chelsea and Jordan's
wedding was also featured in several news articles stretching all the way to Australia. Cathy felt honoured that she was able to be a part of such a monumental moment. It's not every day that you are able to plan out a once in a lifetime opportunity for a patient's family. Until this day, she keeps in contact with Chelsea and considers herself as Chelsea's "medical mom". Cathy loves taking on new passion projects and jumps
at any opportunity to make those around happy.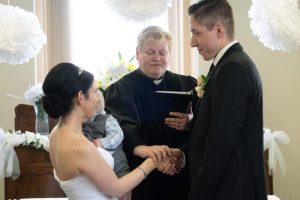 During Nursing Week in 2020, Cathy wanted to do something extra special for her fellow nurses because she knew how frustrated and burnt out, they were during the beginning of the pandemic. "One day when I finished my shift, I let it all out and vented to my daughter Angie about COVID-19. After the pandemic hit, she made these small self-care kits to to the nurses. Then during Nursing Week, Angie was able to get over $1000 from community organizations. She created 50 kits that were valued at $50.00 each. The baskets contained sweet treats, full-size cleaning supplies, and self-care products. In each box, there was a thank you note from all the organizations that donated. She did all of that, just because I asked her if she could do something small. Well, she is her mother's daughter! I handed out these gift packages for Nursing Week."
It doesn't take a pandemic for nurses to act like angels or heroes. If you ask any nurse why they entered the profession, it will always include
the compassion to care for others. Cathy didn't only dedicate her time when she took on these passion projects, but she also enrolled
the help of her family, friends, workplace, and the community. It takes a whole village to make a big difference. In times of crisis, Cathy
reminds us that the only way to get through it is to stick together and continue to lift each other up!
"You know what, you won't always get a thank you for everything you do, but I believe karma always pays it forward. As nurses, we need to remember a few things: If we don't teach our students, they are never going to learn. We all must try and figure out ways to help each other out. Society creates boundaries, not nurses. The keyword in all of this is nurse. It is in all our designations, and it is the one thing that holds us together. I think we always need to hold on to that."