Every Dog Has Its Day: SEIU Healthcare Member Helps Introduce First Service Dog for Hospital Workers in Canada
Service dogs have worked successfully with patients in hospitals across Canada, providing comfort and mental health support.
But what about healthcare workers?
That's what SEIU Healthcare member Kim MacDougall wondered when she started volunteering with her daughter and husband seven years ago, helping train service dogs. Kim has worked at Cambridge Memorial Hospital for over 27 years. She is the Chief Steward and is Ember's primary handler.
"I Got Involved, And My Husband Got Involved, And I Saw That As Time Went On, The Dogs Were Being Considered Facility Dogs For Police Stations And Fire Halls. I Thought, 'Well, Why Not Hospitals? I Mean, We're Just As Stressed,'" Says Kim.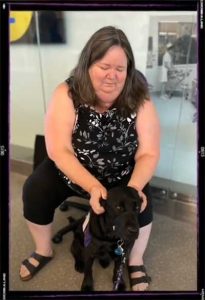 In 2019, Kim took the initiative and approached CMH president and CEO Patrick Gaskin, to see if there was interest in bringing a service dog to help support staff with mental health and stress. Mental health is a struggle for many healthcare workers across Ontario, which has only worsened during the pandemic. He thought it was a great idea and took it to the senior executive team. It was quickly approved and the search for a service dog began.
The COVID-19 pandemic slowed down the application and matching process, but service dog Ember finally started her new job at CMH in May 2022 with Kim and two additional handlers. She works exclusively with healthcare workers and volunteers at CMH.
Ember is also the first service dog working exclusively for healthcare workers in a Canadian hospital. There is even discussion with the University of Guelph to study and measure the impact of service dogs on staff and vice versa.
In a press release, the hospital President and CEO Patrick Gaskin praised Kim's work and the help it provides members at Cambridge Memorial Hospital, "Kim MacDougall, a CMH staff member, approached the executive team in 2019 with a proposal to have a facility dog. We thought it was a great idea and pursued the application. As health care providers, we face many challenges and daily stress that can impact our mental health. Ember is another way to support our staff's mental health. Not only does she provide comfort, but she also promotes positive conversations around mental health."
Kim adds that staff feedback has been extremely positive, "We just did a call to do a walk around with her, and I walked in with her to the emergency department. They were just packed in the waiting room. They were so happy to see her, and you could see the stress kind of fall away."
Like many mental health professionals, Ember has a web page and email where staff at CMH can book an appointment if they are feeling overwhelmed or burnout and seeking the kind of mental health support they can only get from a service dog.
Kim says that Ember is helpful in many situations, even the most stressful ones. "We recently had a code blue, and we had Ember go up afterwards during the debrief. These codes can be quite stressful, and managers know they can request Ember to come to their unit. She is so natural at easing the tension. Ember is very intuitive to people touching her and being with her. She likes to be cuddled and hugged, and she likes to get that feeling of goodness."
Just like other healthcare workers, Ember can't work 24 hours a day. She's also entitled to time off and vacation. When Ember is off the clock, she lives with Kim full time.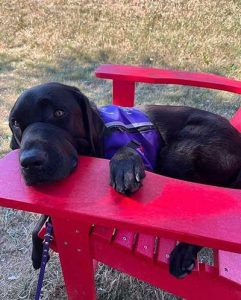 "She gets playtime during the day. We make sure she gets her jacket off and gets to be goofy and have a little fun during the day too. She's a regular dog at home. She even has a best dog friend named Holly. Ember loves to swim, go to dog parks, and go out on the patio that allows dogs. So, she's got a good life."
Ember starts her vacation at the end of August, and Kim says while Ember doesn't have any plans, she's excited about the time off!
Kim's work in bringing Ember to CMH demonstrates the care and commitment SEIU Healthcare members bring to their workplaces every day. Our members are leaders and want what's best for the patients they care for and their coworkers too.
If you are struggling with mental health, SEIU Healthcare has resources available for our members. For more information, contact the Member Service Centre at 1-(877) 672-7348 or through Live Chat on the SEIU Healthcare mobile app.