SEIU Healthcare nurses are leaders in their workplaces and our communities. Over her 20 years as an SEIU Healthcare member, Tanya Rahim Juttlah grew into her own and now fights for the respect, protection and pay that all RPNs deserve. Tanya was featured in Volume Four of our Nursing Division's magazine Scrubs and Scopes released in June 2022.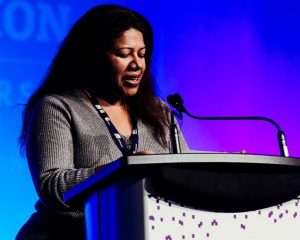 "All good things take time. We have had the privilege of watching incredible members grow into strong leaders. We have witnessed them making a difference in their workplaces and for themselves and their loved ones. It's not solely about becoming a union advocate or a nurse advocate. I want nurses to be confident in who they are and everything they stand for. I want them to become stronger people, parents, friends, colleagues. We are here to help you grow." – Jackie Walker, Nursing Division President
SEIU Healthcare created the Nursing Division because we understood that nurses have unique needs. The Nursing Division's goal is to advocate for nurses in Ontario regarding professional practices, the scope of practice and standards on the delivery of care by nurses. Over the past few years, we have also fought for nurses to have their voices at every table, whether it be bargaining, lobbying the government, or within their workplace steward body. Wherever there are nurses, there should be nurse leaders.
Tanya Rahim-Juttlah has been an active SEIU Healthcare member for over 20 years. Her journey started in June 1998 when she graduated from the RPN program at Central Technical School. In October 1998, she started her co-op placement at Sunnybrook Health Science Centre, where Tanya works until this very day.
"I Have Seen What Happens When Nurses Decide That They Are Strong Enough To Be Seen. I Have Seen How Powerful Nurses Can Be When They Band Together. I Have Seen The Difference We Can Make When Our Words Become Actions. I Call On All Nurses To Stand With Me Because Now More Than Ever, We Need Every Nurse To Help Repair The State Of Our Nursing Profession And Save The Future Of Nursing For All Those Entering Healthcare. Whether We Want To Admit It Is Up To Us, But I Know We Are Strong Enough To Create Change Together."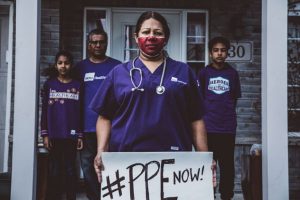 Let's take a closer look at Tanya's nursing career over the past 20 plus years.
2000 – Full-Time position at Sunnybrook's Dorothy Macham Home specializing in cognitive support and behavioral support related to dementia. Participated in the VC Safety Committee, Hand Hygiene Champion Initiative, Nursing Council, IEN-training internationally educated nurses.
2014 – Started to pay attention to her collective agreement. She was tired of management taking advantage of RPNs. Management was not solving problems or handling conflict efficiently. Tanya started participating in union events – she helped plan Nursing Week events, the International Women's Day parade and rallies.
2016 – Became a Union Steward. She continued planning Nursing Week events and attended union training (steward, RTW, WSIB, leadership, women's workshops, etc.). Tanya attended union events and the 2016 Nursing Division Convention.
2017 – 2018 – Continued to attend union initiatives and get more involved with planning events like Black History Month celebrations. Tanya was also on her Local Bargaining Committee.
2019 – Attended the Nursing Division Convention and SEIU Healthcare Convention. Tanya also participated in a Workplace Violence Video campaign and started to get more involved with political events.
2020 – Became a Nurse Steward and acclaimed the Region 4 Seat on the Nursing Division Executive Board. Her political activism continued to grow as she attended Lobby Days and spoke to members of the federal and provincial governments. Tanya started to teach workshops on workload review forms and workplace safety. She also started engaging with Sunnybrook's membership and spoke to the media about the state of nursing in hospitals.
2021 – Actively attending rallies throughout the year, including the Ontario Hospital Association Rally and Queen's Park Rallies. Tanya joined the SEIU Healthcare Labour Board and Durham Region Labour Council. She also continued to engage Sunnybrook nurses during night shifts to ensure all nurses could voice their issues and concerns.
2022 – Committed to working with SEIU Healthcare staff to unite all RPNs in all four of Sunnybrook hospital campuses. Tanya is re-elected as a Nurse Steward and continues to sit on the Nursing Division Executive Board as the Representative for Region 4 and Durham Region Labour Council as a Member-At-Large.
Each year, Tanya pushed herself to reach new limits, taking what she had learned and applying her knowledge to help others develop their leadership skills. Tanya shares her feeling as she looks back at her career.
"There Have Been So Many Moments In My Life When I Think About All The Important And Monumental Steps We Have Taken As A Union, And How Somehow, It Still Isn't Enough. There Is Still So Much Work Left To Be Done. Hospital Employers And The Government Are Always Knocking Us Down In New Ways. Healthcare Doesn't Feel The Same As It Did 20 Years Ago, But That Is What Keeps Me Going. If I Don't Fight For RPNs, Who Will? If I Stop Fighting, Then How Bad Can Healthcare Get? I Will Keep Showing Up, And I Hope My Fellow RPNs Will Join Me In This Fight. We Need To Do This For Ourselves And Future Generations. We Deserve Better. They Deserve Better."
Tanya's latest initiative is to tackle political action online. She is working at Sunnybrook full-time, an active Nurse Steward and caring for her children during the pandemic, so she decided to look for ways she could participate in online actions.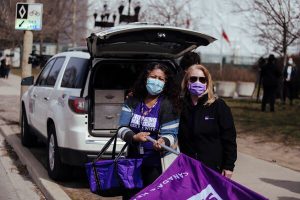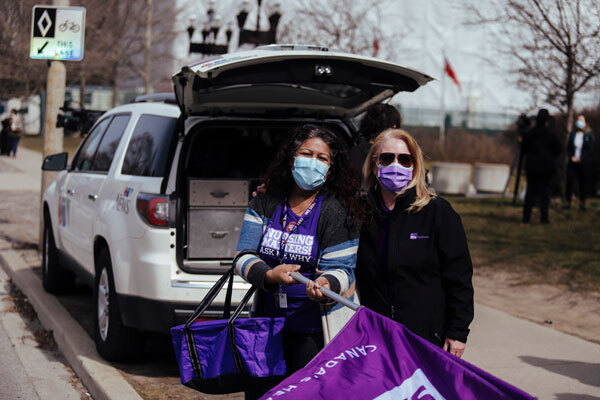 Any petitions that were advocating for nurses, she was signing them. Any virtual events she could attend, she was there. Tanya even sent countless emails to MPs and MPPs in her riding. Wherever and whenever she could use her voice, she would make the effort to try. She even went as far as questioning The College of Nurses of Ontario (CNO) while sitting on a panel they hosted.
She asked why the CNO was not in the public when long-term care homes were hit the hardest and why they stayed silent and merely took instructions from the government. This is a question Tanya is still pressing for answers to today.
Over the past 20 years, SEIU Healthcare has watched Tanya flourish into an influential leader. President Jackie Walker talks about how proud she is of Tanya's growth over the years.
"Every year, we have new nurses choosing to make a difference and step into bigger roles in their workplaces. Not every advocate has to be super outspoken or constantly knocking on management's door. One of my most important jobs as the Nursing Division President is to create a platform and a space for nurses to thrive. I need to develop a way for nurses to want to get involved and feel comfortable enough to say: I matter, and I will stand up for myself. I am so thrilled that I was able to play a small role in Tanya's journey, to watch her be brave enough to speak in public, to the media, and mentor other nurses. She started with a fire in her heart, and over the years, that flame grew. Now she sits on the Executive Board and meets with MPPs where she can speak her truth. I am proud to fight for all SEIU RPNs. I hope nurses look up to Tanya for inspiration and find the strength to be a part of the change we desperately need. I will be here ready to help them start their journey."
Over the years, with the union's help, Tanya was able to break her barriers and found herself accomplishing not only her workplace goals but also her personal goals. She spoke to politicians, voted for the first time, became a teacher and most of all, she became someone other colleagues could turn to for help. With the upcoming provincial election ahead, Tanya urges healthcare workers to take the time to learn about the candidates in their riding and vote.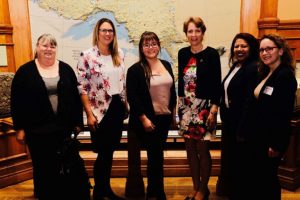 "Politicians do not deserve your vote unless they work for it. Many of you may not know who is in your riding, but you must take some time in your busy schedule to do some research. Who you vote for can make a huge impact on your daily life. The only way things are going to change is if you get involved. Yes, we are all tired, but our time to rest will come. Right now, we have to find the energy to make a difference. It's not about working harder. It's all about working smarter. I know you have a lot to say, so put all that venting and frustration into a letter and send that to an MPP or talk to the union and see how they can help."
Tanya never thought she would be as active as she is today, but now she can look any politician dead in the eye and tell them exactly how she feels. But it took a lot of time, coaching, training and practice to get her to where she is today. Tanya talks about how the union helped build her up.
"I Was Never A Camera Person. I Didn't Like The Idea Of Doing Interviews, But The Nursing Division Changed That For Me. I Wouldn't Be Who I Am Without Their Help And Guidance. Jackie Walker And Dernell George Have Been Role Models. They Took Me Under Their Wing And Taught Me Everything I Needed To Know. My Union Representatives, Michael Guzman And Michael Boschetto, Have Given Me So Much Courage To Approach My Employer, Especially For Practice Issues And Expanding Our Scope. The Union Has Been My Greatest Cheerleader. They Say It Takes A Village; They Are A Big Part Of Mine."
Check out Volume Four of Scrubs and Scopes today to read more stories like this.